Museums.EU community is growing!
How does your museum look on Museums.EU? Hundreds of users are already using our
FREE ONLINE CMS
to update their listing. The result?
Museums.EU is getting bigger and better every day
! Thousands of new exhibitions, events, educational activities and objects are making our website more and more appealing for
users from all over the world
. Once again, the entire Museums.EU team would like to
thank you
for your effort!
Many new features

Out to-do list is packed with exciting new features!
You may not see big changes every day, but we are constantly adding new functionalities and improving the website. The one feature we hope you don't see very often:
our 404 and 500 error pages
.
Are we missing something? We really appreciate all the feedback, so
please let us know
if you have any comments or suggestions.
Add some information today!
Museums.EU offers a
FREE ONLINE CMS
, which enables you to add visitor information, exhibitions, events, activities, articles, and even collections.
With your username and password you and your colleagues can easily improve your listing.
Our users tell us our CMS is very easy to use. Do you need help.
We'll be happy to assist you!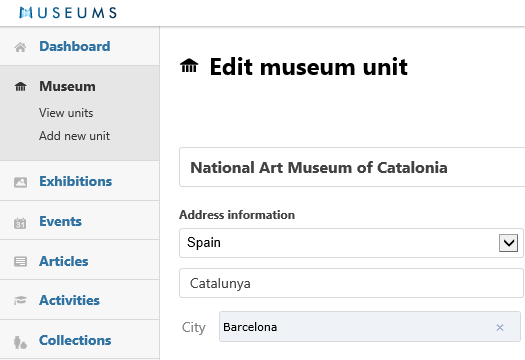 Users are starting to notice
In just a few short months, our
Facebook
and
Twitter
pages have already gathered more than
12.000 followers
, which shows that there's a lot of interest.
Do you read our
blog
? We promise to keep you entertained and well informed.
It's Ask a Curator time!
Do you know the project
Ask a curator
?
It's an all-day event on
September 17th 2014
and a great opportunity for museums to make deeper connections with their followers.
Join today
!
A few practical CMS tips
Have you noticed
activities
? What's the difference between activities and events?
Activities are educational events targeted for specific groups (mostly school groups, but also for adults or families). When adding an activity, you can select a target group and add maximum number of participants, duration and price per person.
Anyone in your organisation can use the CMS. You can add a new user by yourself.
To add a new user: click "Users" in the menu on the left; under Users click the "Add new" button in the upper right corner; fill in at least the required information (*) and click the "Save" button. That's it.
Your information will reach the most people if available in English, with translation in your native language.
You can find the "Language" selector in the upper right corner.
Do you need help?
Our
support team
will be happy to help you.
What's next?
Many of you have cast a vote for us in the
.EU WEB AWARDS
competition. Thank you and keep your fingers crossed!
Also, the brand new Museums.EU
mobile apps
are almost ready! Would you like to be one of early beta testers?
Email us
and let us know!